Missy Henriksen – National Pest Management Association
Tuesday, April 9, 2013
April is National Pest Management Month, an observance that's been taking place for more than 30 years to recognize the pest management industry for its commitment to the protection of public health and property from common household pests.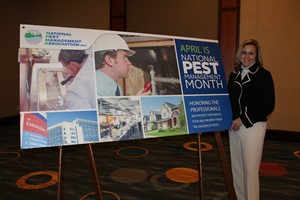 Most people tend to think of pest management in terms of residential problems (ants, rodents, cockroaches, termites, fleas, etc.); whereas, in reality, the importance of the industry to the nation as a whole is much broader including food and health protection. Consider for example:
Public health officials attribute the quality of life we have today to three things: better pharmaceuticals and vaccines, better sanitation and

better pest control

.
Without pest management practices, pests could destroy more than 50 percent of our food crops.
According to a survey cited byLive Science, insects and snakes rank as two of the public's most common fears.
Rats bite more than 45,000 people each year and can transmit disease organisms such as rat bite fever, salmonella, trichinosis, murine typhus, the plague, and leptospirosis. In addition, rodents are blamed for an estimated 20 -25 percent of all fires of unknown causes due to their propensity for chewing electrical wiring and gas lines.
According to the American College of Allergy, Asthma, and Immunology, more than two million Americans are allergic to stinging insects, more than 500,000 enter hospital emergency rooms every year suffering from insect stings, and between 40-150 people a year die as a result of these stings.
Recent surveys have determined that cockroach allergens are the number three contributors to children's asthma. In addition, cockroaches contaminate food and spread filth by walking through contaminated areas. They commonly carry staphylococci, streptococcus, coli-form, molds, salmonella, yeasts, and clostridia. Control and eradication of these pests is vital to health care facilities, homes, and sites where food is prepared or served.
It would be difficult to find any segment of the food industry that could comply with federal sanitation and health regulations without an adequate pest management program.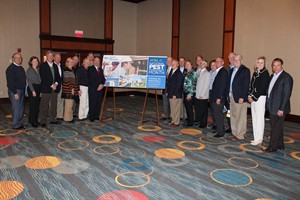 Today there are almost 18,000 professional pest management companies working each and every day to ensure the public has adequate protection against the diseases and dangers caused by pests. Often times, popular culture portrays our industry in the most extreme sense – highlighting extreme infestations. While, fortunately, those situations aren't the norm, they do show the harrowing work our professionals regularly perform in their work to protect us all. In observance of National Pest Management Month, I hope you will join me in saluting pest management professionals for the role they play in safeguarding us from the scary, disease-carrying, property-destroying, scream-causing, fear-inducing pests.
---